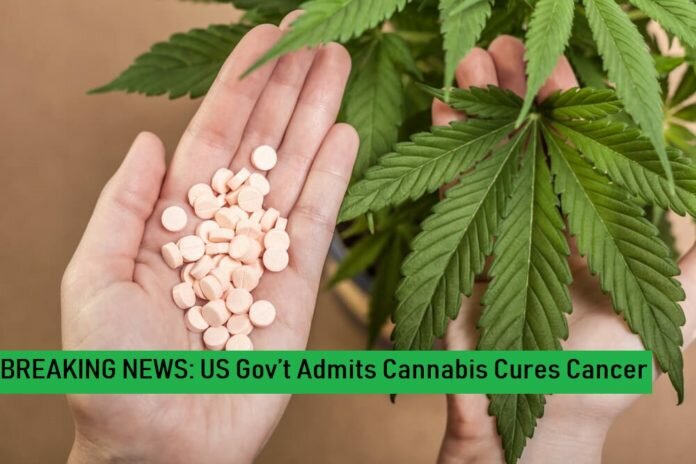 The moment medical marijuana has been waiting for since California first passed laws legalizing the medicinal use of cannabis, in 1996, is finally here — the US government has, at last, admitted that marijuana has medical benefit. Yes, you heard right — the US government recently updated content pages on the National Cancer Institute's (an official division of the US Department of Health) website to include information about, cannabis and cannabinoids.
Attempting to not draw too much attention to the update, the US National Cancer Institute quietly updated their website in January, admitting that cannabis and cannabinoids kill cancer without damaging the body's normal cells. Considering that cannabis is a Schedule 1 drug, which according to the Controlled Substances Act of 1970, means that it holds NO MEDICINAL VALUE, how could such a unbelievable admission go unnoticed by mainstream media? After all this is the plant that has been demonized as the "gateway drug", for the past 80 years — this is BREAKING NEWS!!
The pages include a section for both patients, and physicians, and covers topics ranging from the medical effects of cannabinoids, to preclinical studies conducted using cannabis or cannabinoids. Studies in mice and rats have shown that cannabinoids may inhibit the growth of a tumor by causing cell death, blocking cell growth, and blocking the development of blood vessels need by tumors to grow. While further animal and laboratory study's have shown evidence that cannabinoids may be able to kill cancer cells while protecting normal cells.
Additional studies have shown that there is evidence of cannabinoids protecting against inflammation and cancer of the colon; may have anti-tumor effects; may be effective in stoping breast cancer; and may make chemotherapy more effective.
Also included, is commentary about how the US government distributed cannabis to patients on a case-by-case basis under the Compassionate Use Investigational Drug (IND) program between 1978 and 1992, despite while claiming that cannabis held no medicinal value. It goes on further to say that researchers, have studied how cannabinoids act on the brain and other parts of the body, and have discovered cannabinoid receptors (molecules that bind cannabinoids) in both brain cells, and nerve cells in other parts of the body, with further evidence of cannabinoid receptors on immune system cells, suggesting that cannabinoids may play a key role in immunity, too.
It also includes information on its effectiveness to stimulate an appetite, relieve pain, reduce inflammation, control nausea and vomiting, it's anti-anxiety effects.
Since the early 1990's physicians have been prescribing opioid medications at an ever-increasing, and alarming rate. Resulting in an epidemic far greater in evil, than any reefer madness. The US, is now battling to counter the out-of-control, critical state of prescription drug abuse that is plaguing all classes, ethnicities, and ages. It is estimated that 52 million people have used prescription pills for non-medical reasons at least once in their lifetime, including a overwhelming large number of young people. The National Institute on Drug Abuse (NIDA) conducted a survey called "Monitoring the Future", which found that 1 in 12 high school seniors reported non-medical use and abuse of prescription pills, while rating Vicodin, and OxyContin, as the most commonly abused drugs by adolescents. In an effort to regain control of the pill-popping monster that has been pharmaceutically created, the US is clamping down on the physicians who have writing the prescriptions, enforcing a strict new protocol that is leaving only pain management physicians with the right to prescribe pain pills.
Which leaves us to wonder only one thing – could the federal government be getting ready to reschedule cannabis, allowing for the medical research and scientific study of pot?
Firstly as a solution, to curbing the pandemic of prescription abuse among people, and patients. Secondly as a peace offering, to the pharmaceutical super-giants grotesquely over-capitalizing on the current state of the nation — cannabis will open the door to a whole new pharmaceutical industry as compensation, and while this is not something we condone, the simple fact alone is enough to have the ensure that pharmaceutical lobbyists share our agenda. Thirdly, because President Obama promised to support and sign the CARERS ACT, legalizing the medicinal use of marijuana thereby allowing for its use by the Veterans Affairs, and the vets who repeatedly keep pleading for reform — Question: Why are our vets pleading? They are our veterans, the men and women who have risked their lives, to defend and protect ours. They shouldn't need to ask – let alone still beg or plead! As a nation, we should respectfully give them anything they need to help ease their pain and suffering, as a result of their service.
And finally – and most importantly of all – because President Obama promised change, and congressional reform of medical cannabis if the states led the way. Considering that when Obama took office in 2009 there were already 14 legal medical marijuana states, and now there's 23 with more on the way, while 4 states and the District of Columbia have altogether legalized the recreational adult-use of pot, its clear that the states have held up their end. Now, its time for the president to uphold his.
"I don't think rescheduling is something that I would characterize as drastic," said U.S. Rep. Earl Blumenauer (D-Oregon), one of the key members of Congress's cannabis reform cabal. "If we were scheduling today, marijuana would not be Schedule I — or Schedule II. In fact, it may not be scheduled at all."
"If we were scheduling from scratch and doing so based on scientific evidence, tobacco would be Schedule I. It's an addictive killer," he added
In support of medicla marijuana and it's patients, everywhere:
PLEASE SHARE THIS BREAKING NEWS with as many people in your network, as you can. Help stop reefer maddness once and for all, and spread the word that the federal government has admitted the truth, about marijuana and its medicincal value. 
Help PUSH President Obama to keep his promise and reschedule cannabis, for the greater good of us all!!