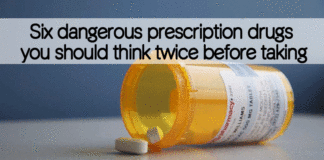 (NaturalNews) Just because your doctor prescribes it does not necessarily mean it is safe for you to take. Many popular prescription drugs,...

60 doctors, pharmacists charged in largest US opioid prescription bust
Federal prosecutors charged 60 physicians and pharmacists Wednesday with illegally handing out opioid prescriptions in what they say is the biggest crackdown of...

Do you take any of these nine types of prescription medications? If you're feeling weird when you consume cannabis, this could be...

In the past, some MDs have proposed that statin drugs should be put into our water supplies and handed out to fast food customers....

The Rockefeller Foundation is facing a $1 billion lawsuit for deliberately infecting hundreds of Guatemalans with syphilis in a secret experiment.

Big Pharma Losing Grip as Study Shows Nearly 100% Cannabis Users...
A landmark study helps explain why Big Pharma is so afraid of the medical benefits of cannabis. The pharmaceutical and alcohol industries, both...

The Gastric Protector Known as Omeprazole Increases Your Risk of Death
For anyone who has experienced heartburn, or gastroesophageal reflux disease (GERD), they would likely vouch for how excruciating it can be. Moreover,...

Have you paid for an ancestry report? Perhaps someone gave it to you as a gift. Either way, pharmaceutical giant GlaxoSmithKline now...

By Tracey Watson Most of us are familiar with the actor Chuck Norris, hero of action shows and movies like Walker Texas Ranger and Martial Law. Norris is famous...

How A 25-Year-Old Drug For Nerve Pain Called Gabapentin Is Now...
As the opioid crisis rages on in America, users who want to get high are now taking a drug that has been traditionally prescribed for nerve...