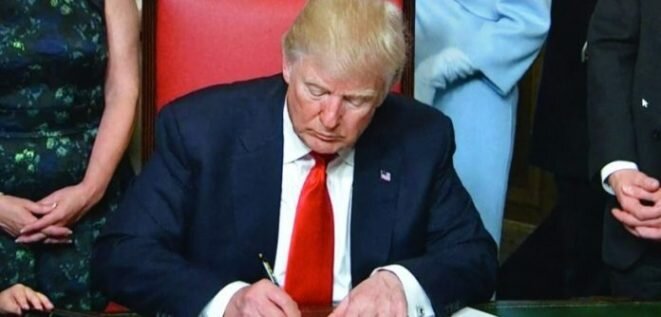 President Trump has been under fire for the past week. He's battled liberals over Stormy Daniels. He's battled Libertarians and non-interventionists over the current situation in Syria, a decision which could ultimately begin a proxy war with Russia and Iran. And he's battled liberals over (insert anything).
But he may have just, once again, pulled the proverbial rabbit from the hat. And the big pharmaceutical companies aren't going to be thrilled.
Trump has paved the way for U.S. marijuana legalization, a move that sent many of the top marijuana stocksskyrocketing and a number of Democrats applauding. President Trump will essentially withdraw federal objections to state marijuana legalization ambitions.
If Trump is to proceed, which does seem likely, this would be a huge reform of federal marijuana laws, which is currently prohibited. It means states would no longer need to contend with the federal government when implementing marijuana legislation.
Democrats like Colorado Senator, Cory Gardner, was thrilled by the announcement."Since the campaign, President Trump has consistently supported states' rights to decide for themselves how best to approach marijuana," U.S. Sen. Cory Gardner (D-CO) said in a statement. "Late Wednesday, I received a commitment from the President that the Department of Justice's rescission of the Cole memo will not impact Colorado's legal marijuana industry. Furthermore, President Trump has assured me that he will support a federalism-based legislative solution to fix this states' rights issue once and for all."
We'd be hard-pressed not to attempt to draw a conclusion between Trump's move being a rather timely shot at current Attorney General, Jeff Sessions, who has been rumored to potentially be fired soon. Clearly, Gardner's statement confirms that Trump's held this ambition from day one, but I would imagine the timing is somewhat strategic on a multitude of levels.
But more bitter than Sessions is likely executives at pharmaceutical companies who have boldly donated to fighting against marijuana legalization in the United States. A chart posted by the Washington Post back in 2016 shows exactly why pharmaceutical companies would be a bit uneasy with impending marijuana legislations all throughout the United States.
Those statistics are nothing short of stunning. The fact is, fully legalized marijuana would allow millions of people suffering from chronic pain to at least try marijuana as an option (legally). They'd not need a pricey prescription nor have to purchase from black market sources.